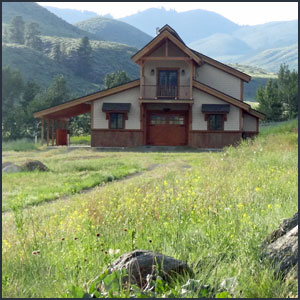 Presenting Beaver Creek Ranch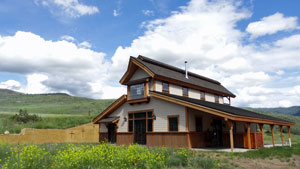 For the last few years,
Micheal Parks Construction, Inc.
, has been developing a farm and ranch property that is an artist's or craftsperson's dream. Located in the spectacular Methow Valley of North Central Washington, the 40-acre parcel is tucked away on Upper Beaver Creek Road, near the foot of Pipestone Canyon, surrounded by hills, pasturelands, and wide-open skies, with Beaver Creek flowing right through the middle of it. The property features a 2500-square-foot home and workshop, modeled after a monitor barn, with heavy post-and-beam interiors, soaring ceilings, a cozy wood-stove on a stone hearth, sub-floor hydronic heating, and views in all directions. Best of all, the home is designed with ample space to create. Whether your medium is painting, sculpting, pottery, furniture-making, vehicle restoration, or value-added farm production, this home boasts a huge in-house workshop so that you can produce in comfort and convenience. Outside, you'll be inspired by panoramic views, the crystal-clear waters of Beaver Creek, undisturbed forest-wetlands on either side, high desert shrub steppe on the hillsides, and a never-ending display of wildlife and cloudscapes. Beaver Creek is not only a pristine source of one of the world's most sought-after commodities–pure North American water—it is also home to returning steelhead trout and salmon—right in your own back yard. This newly built custom home is an outstanding architectural example of functional beauty and historic rural design. Both modern and traditional, the home is unfinished so that you can design and customize it as you please. We are now pleased to announce the offering of this property to the discerning purchaser who is looking for a peaceful get-away that is also income-producing and art-inspiring.